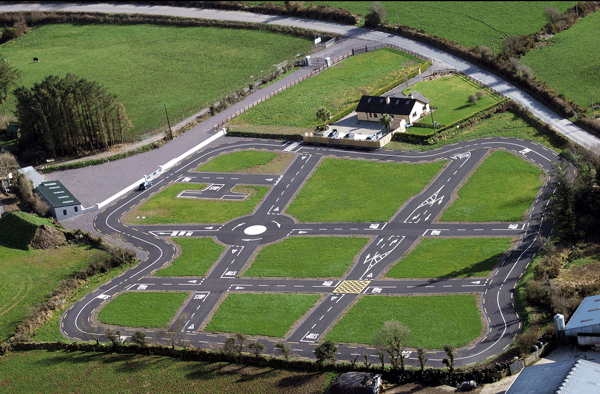 The practice track at the Bantry Driving Academy in West Cork offers you a safe, private environment while you learn to drive. You'll get to build your driving skills without having to worry about traffic at the same time.
Bantry Driving Academy brings world-class driver training facilities to the heart of West Cork, and our kilometre of purpose-built roadway is the best possible place for you to get confident behind the wheel.
Features of the Practice Track
It's equipped with:
T-junctions
Filter lanes
A roundabout
Hill-start section
Parking practice area

You'll get to perfect your driving techniques without the pressure of having an audience around you. When you're not under pressure, you'll quickly master the skills that will make you a confident driver on the public roads.

Gain Experience and Progress Towards Road Lessons
Whatever your age and level of experience, you'll get all the support you need from an Approved Driving Instructor as you learn to drive in a dual control car. Then, when you're really confident and ready to take your pre-test lessons up a gear, we'll continue your training on the public roads and test routes.

We'll Build Your Confidence
If you're a nervous driver with a few lessons under your belt, or even if you've passed your test but lost your confidence behind the wheel, the practice track provides you with a safe environment where we'll help you to improve your skills and confidence.

Book Now
Book today to begin your driving lessons at our world-class driver training centre. We offer individual lessons, group training sessions, and school tours.